We'll Have Oil in Your Tank by Noon
No fuel packs more BTU's than fuel oil. It heats faster with more sensible heat output than gas, propane or heat pumps. It can be stored on site without relying on interruptible pipes or wires, and the consumer can select from a host of vendors eager to provide a higher level of service.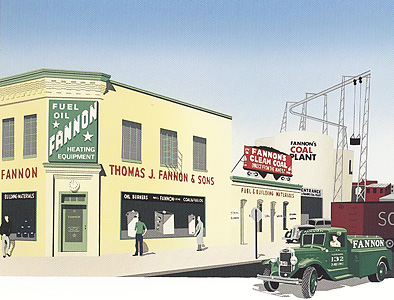 Your oil can be delivered on automatic or on a call-in basis. Automatic delivery is based on degree day calculations – your individual consumption rate is calculated on past usage, and a reliable forecast of your next delivery is made. If you choose call-in, make sure you have an accessible, readable gauge, and call us at least one day in advance.
Payment can be made on a budget account. Your estimated consumption is broken into ten equal payments due between July and April. Avoid the crush of mid-winter bills with this easy level-payment plan!
Storing Fuel Oil
Your fuel oil tank, whether outdoors, indoors, or underground, provides safe, reliable storage. Oil is not flammable, it requires pressurization, atomization, and an extremely hot ignitor in order to combust. The biggest problem homeowners can face with a tank is the gradual buildup of moisture and sludge, which clogs lines, filters and nozzles, and can freeze solid in bitter cold. Keeping a tank relatively full, especially in spring and summer, can minimize condensation. We add a special anti-sludging agent to all of our deliveries, and other additives are available if needed.
Underground tanks are often a special concern. How long they last is usually a matter of soil condition…wet, acidic soils (marine clay, for instance) are tough on a tank. Dealing with a tank that's leaking, however, poses no great cost to the homeowner. The first sign of leaking is water in the fuel. Groundwater pressure typically puts water in the tank before fuel can create a problem in the soil. The State of Virginia manages a fund (paid for by your fuel oil company) which will cover any remediation costs associated with a leak (less a $500 deductible). Small Heating Oil Tank Fact Sheet